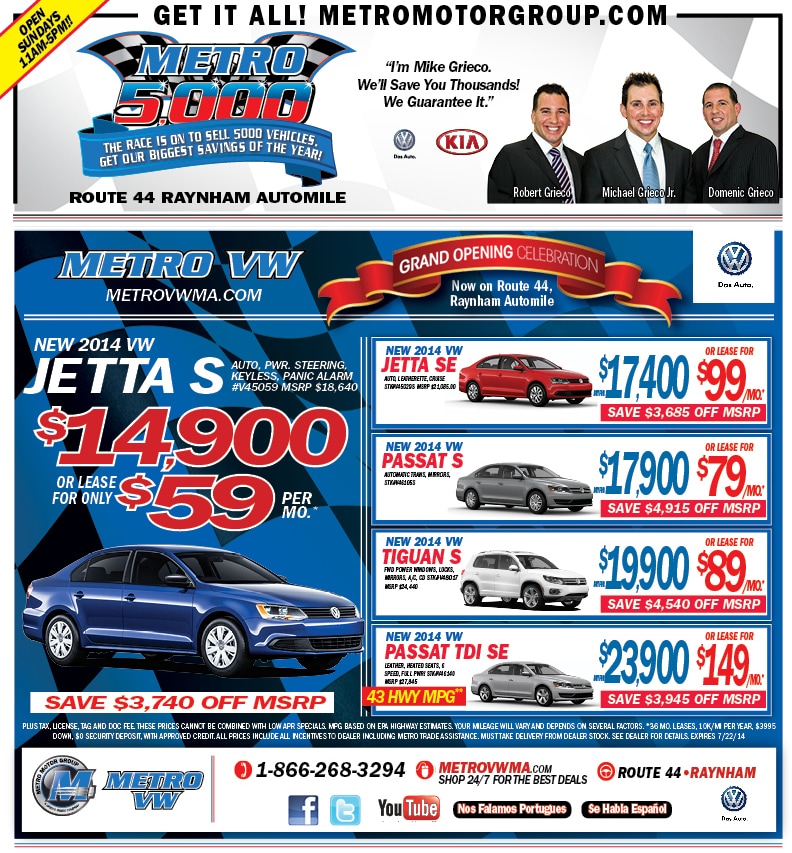 Multi-Point Vehicle Inspection*

Free estimate provided on needed Service & Parts.

CHECK ENGINE LIGHT*

Check engine diagnosis is regularly $110.00

WHEEL ALIGNMENT CHECK*

Wheel alignment starts at $89.95

WIPER BLADE INSTALLATION*

20% off the purchase of a new set of wiper blades

BRING IT BACK BONUS*

Come Service with us and Save!

BRAKE SERVICE*

Take advantage of this limited time offer.
CABIN AIR (POLLEN) FILTERS*
New 2014 Passat S Lease*

2014 Passat 4dr Sdn 1.8T Manual S..

New 2014 Tiguan Lease*

2014 Tiguan 2WD 4dr Man S

2014 Volkswagen Passat S*

2014 Passat 4dr Sdn 1.8T Manual S..

2014 Volkswagen Tiguan S*

2014 Tiguan 2WD 4dr Man S
Featured Pre-Owned Vehicles*

Featured Pre-Owned Vehicles*

Featured Pre-Owned Vehicles*

2013 Hyundai Tucson Limited

Featured Pre-Owned Vehicles*

Featured Pre-Owned Vehicles*

Featured Pre-Owned Vehicles*

Featured Pre-Owned Vehicles*

2012 Hyundai Sonata Limited

Featured Pre-Owned Vehicles*

Featured Pre-Owned Vehicles*

Featured Pre-Owned Vehicles*

2011 Dodge Grand Caravan C/V CV